TLY Culture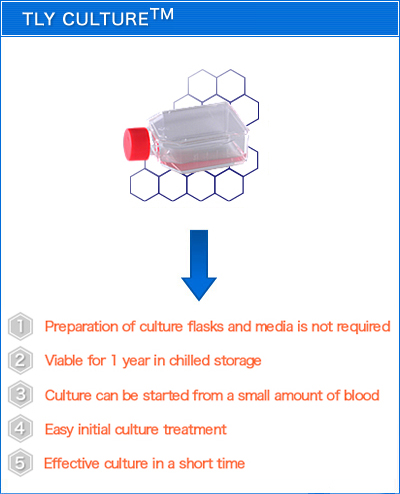 Features of TLY Culture
Anti-human CD3 antibody is immobilized on the bottom surface of the culture flask (25 cm2).
Flasks are filled with 5 ml of human lymphocyte culture medium beforehand.
Culture can be easily started from a minute amount (10–100 µl) of human peripheral blood (whole blood).
Lymphocytes increase in number by about 100-fold after 1–2 weeks culture.
Useful for research and tests that were not previously possible due to insufficient blood sample.
Samples for DNA analysis can be easily prepared from less than 100 µl of blood.
Culture can be started directly from postheparin blood. Separation of lymphocytes is not required.